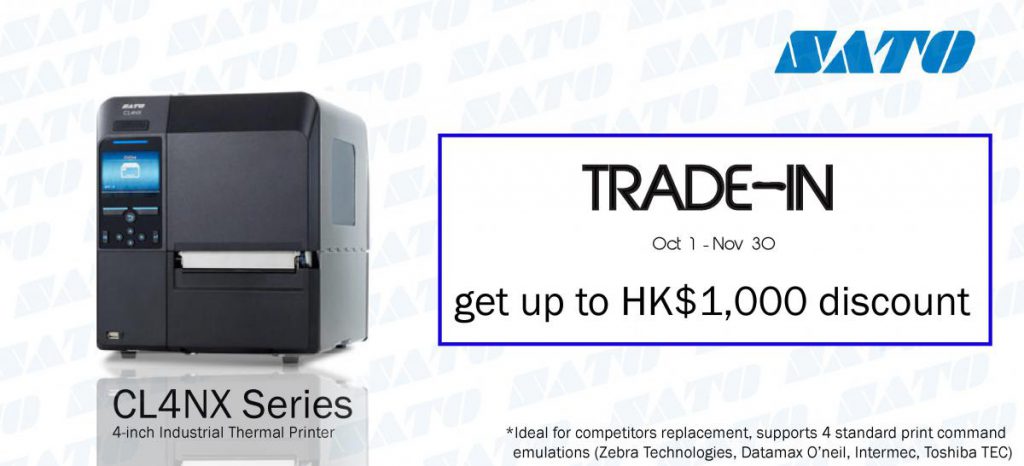 SATO CL4NX can run Zebra, Datamax, Intermec and Toshiba printer language
SATO CL4NX offers standard emulations on-board. Featured its plug and play function, you are not required to rewrite print command. The Sato CL4NX supports printing commands including SZPL (Zebra Technologies), SDPL (Datamax O'neil), SIPL (Intermec) and STPL (Toshiba TEC). When switching from another brand of printer, auto detect function allows to plug-and-play operation without selecting the appropriate command language.
Million Tech offers special trade-in program valid from 1st October – 31st December, 2016. You can trade in your old printer to use toward purchase of SATO CL4NX printer. Please contact us at 2784 2878 for details.
New Added Features
Wi-Fi Direct Function
Newly added function of Wi-Fi Direct makes CL4NX able to print labels wirelessly without Wi-Fi access point. It gives an option to print wirelessly.
Standalone Printing
Application Enabled Printing (AEP) is adopted which can save label formats in printer and detect barcode data in SBPL. It provides standalone printing without PC that only few clicks on printer facilitates instant barcode printing. CL4NX enables connection with keyboard, barcode scanner and weighing scale for simple-to-operate purpose.
Barcode Verification
Barcode Check can be performed automatically for verification. It conducts matching data from received SBPL printstream and the verification result will be shown on LCD screen. CL4NX allows adding logging capability either saves to USB memory or DB server.
RFID Encoding Option
CL4NX supports a wide range of RFID technologies, such as UHF, and HF modules, ISO 18000-6, ISO 15693 and ISO 14443. Three adjustable positions are designed for precise RFID encoding/ printing on Labels. CL4NX also support encoded RFID labels with pitch as short as 13mm.